Yet another year languishing in the cold while the entire art world was down on Miami Beach for Art Basel soaking in art and sun while chugging machine churned slushies at Wet Willies.  This year it was once again their time down there, and our time up here. Gotta flip that around Goonies style for 2014. Next year I promise you, Miami or bust, come hell or highwater.
What only makes it more depressing is the sheer amount of  high-roller art fairs and gala party invites I was sent and couldn't attend.  All my friends posting beach selfies  on FACEBOOK didn't help either (but didn't hurt).  I appreciate a nice parka or the tasteful pashmina as well as the next guy, but I always encourage the rare album of wintery pale chested cleavage (how many snowy rooftop pics is too many?).

Back up North I kept warm by  visiting galleries, and hobnobbing with the elite resilient few who stayed home, as well as the ultra-chic jet set crowd who were photographed attending openings in both climates.
And truthfully I have been really busy these past few weeks, the travel would have just slowed me down.  I haven't made an official announcement of it as of yet, but the cat is now out of the bag.
I have been organizing an amazing staff of writers for Artiholics.com (the daily blog) and their articles are blowing me away, and are going gangbusters with people sharing and liking them like crazy.
I will still be blogging, but have taken an Editor-in-Chief role at Artiholics, as I can't clone myself (yet), I do live in a city where more art openings, galas, parties, and events are happening in a single night than any ten people could go to, thus I had to find ten people to go to them, hence we have expanded the brand into a REAL Art blog.
Check out the list of talented artists / art writers I've taken under my wing in the new era of Artiholics.  These guys and gals are going to up my game, and get the original art articles (and tasteful apéritifs) flowing in abundance over the coming months.
The daily blog is just under a year old, and it's headed in the right direction.  If you have never checked out Artiholics, please do, and if you haven't LIKED IT ON FACEBOOK, please do that as well.  New articles go up daily.  This is the start of something beautiful.  You can also like it right here in the sidebar >>>>>
Before I launch into what grounds we covered in the past week, I do have to give a few shout outs. First a thank you to The New York Post, and Post writer @TimDonnelly.  I was interviewed and quoted for an article about the Cult of Bill Watterson which ran online and in the Sunday Print Edition (Read the Article Online Here).
The Post interviewed me because they wanted the perspective of an artist whom was influenced by Calvin & Hobbes, which I had mentioned before in this post (Are You With Me Hobbes? – Artiholics), yet another example of the power of blogging.

I also have to thank GraphicDesignN.Y.C. who filmed, edited, and posted this great video of the very tail end of my art opening from last month's Le Salon d'Art show Losing Our Figures.  I had no idea anyone was filming there, and they really captured the work well.  They also posted photos on their blog.
A big thanks to the folks at ARTE FUSE who attended my opening too, and wrote this up about it.  As well as Reginald Thomas from Cryfoto for taking these pictures at my opening.  Now let's get down to the last week in art…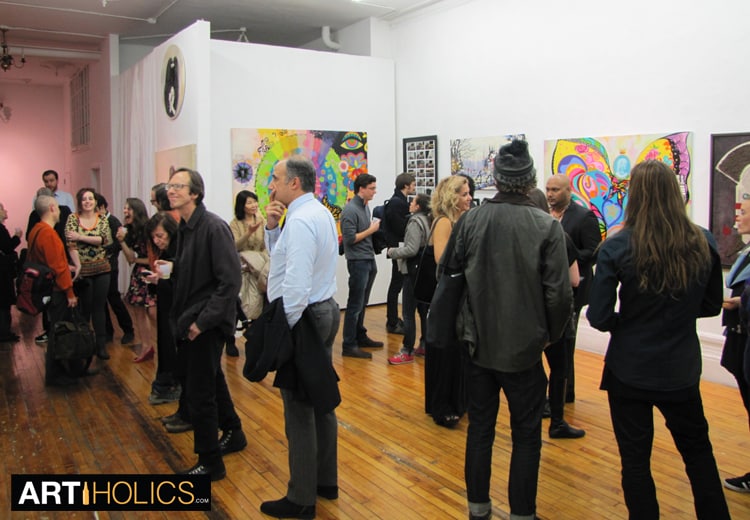 This week Artiholics writer Andrew Kaminski recounted the opening at Broadway Gallery for their show Artists at Home and Abroad: December Edition featuring Artists from NYC and around the world mixing and mingling in one salon style show, which I also attended but in a photographer capacity for his article.  We met five of the artists and two of the curators of the show. (Broadway Gallery's International Artists Mix With Locals In The L.E.S.  – click to read).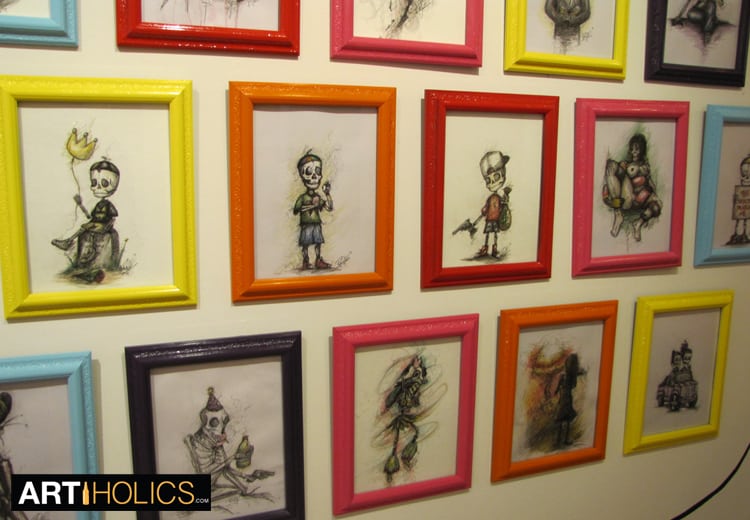 I went to Castle Fitzjohns Gallery to experience Ivan Roque's Awakening and later caught up with him on Facebook to ask him a few questions about the show (The Magic of Youth is Unfiltered & Refocused in Ivan Roque's "Awakening" – click to read).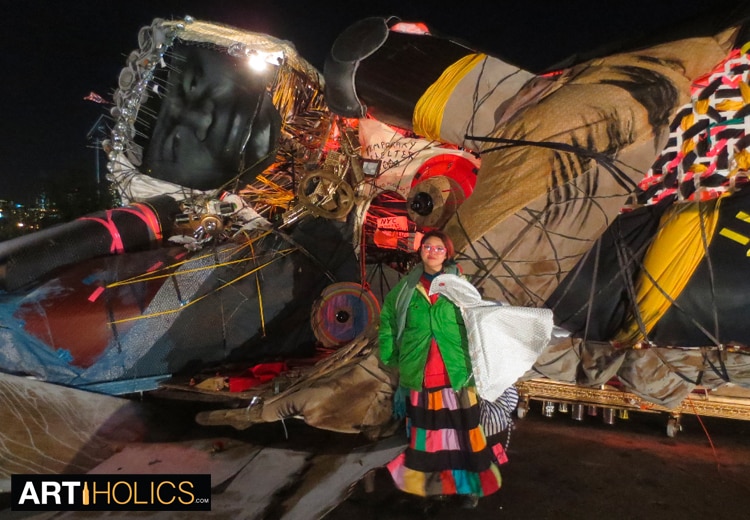 Artiholics writer Betty T. Kao (Pictured above)  gave a great recounting of her experiences over the two weeks of collaborating and making art with Noah Fischer at the Performa 13 events including massive sculptures and late night ritualistic bonfires. (Ritual, Blessings, Activism: Intentional Community as Art @ Performa 13 – click to read).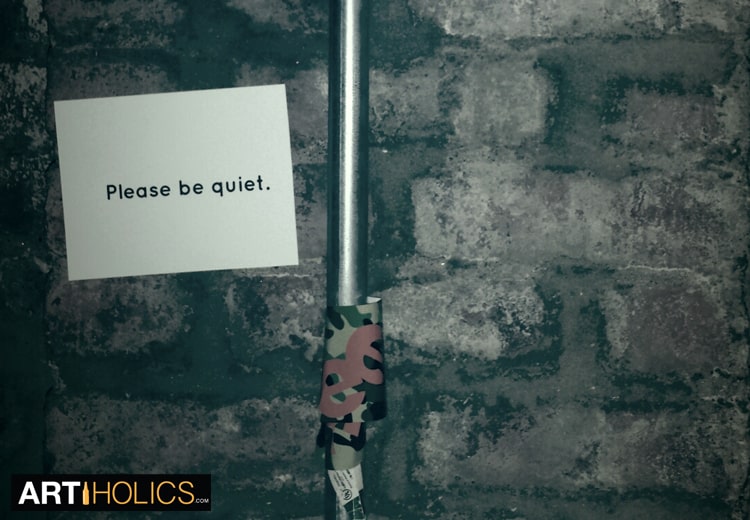 Artiholics writer Jessica Slagle took us to a Silent Retreat Workshop for Creatives, where cellphones are hung out to dry, and the only sounds are the sounds of your art being made. (Making A Masterpiece…In Dead Silence – click to read)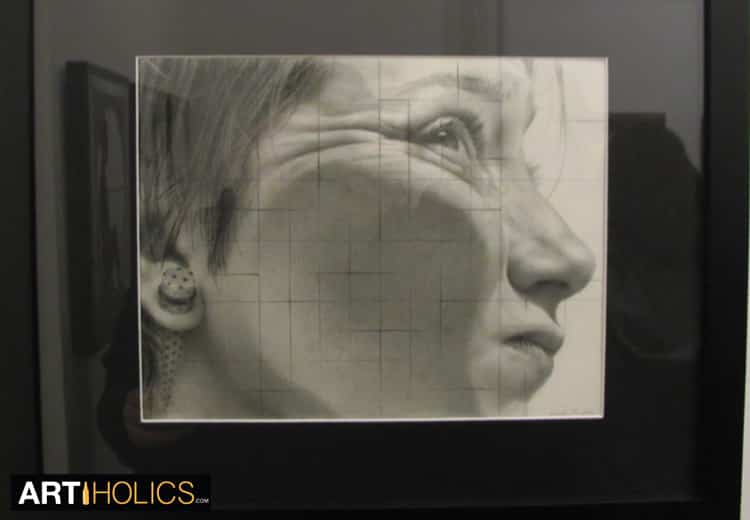 I attended Dacia Gallery's annual group Holiday Exhibition.  This year the theme was Black & White (guests were even suggested to dress in B&W – which I did).  I got to meet and photograph a bunch of the artists, and say hi to a few I already knew. (Orgy of Chiaroscuro: What's Black, White & Photographed All Over? – click to read)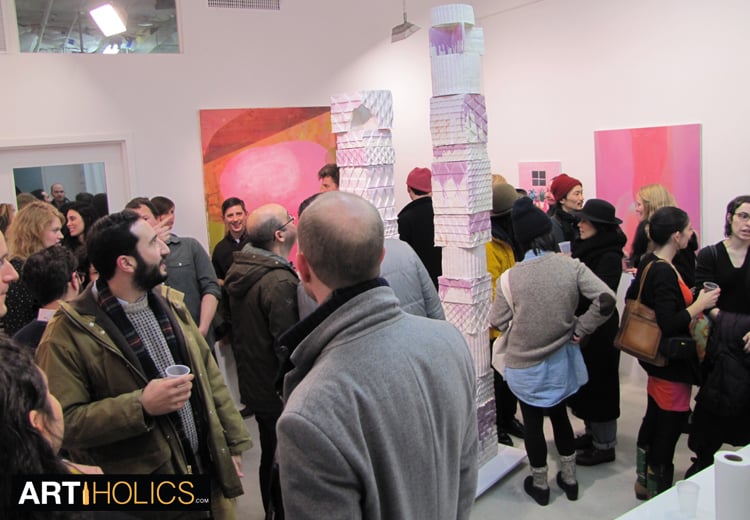 By far the most popular article of the week was my coverage on the opening for Field Projects Gallery's  Show 17: Drunk-Tank Pink – Curated by Benjamin Sutton .  I met a handful of artists, spoke with the curator, and got some good shots of Artists and their work, which (the title of the show doesn't deceive your eyes) is very pink. (Drunk-Tank Pink: The Psychological Effects of a Color in Art – click to read) .
Just another week in the life of an art juggernaut.  Until next time, stay warm, stay wild, and when creativity hits, learn to take a punch.
Written by Cojo "Art Juggernaut"